It's finally time to start my blog on our recent Taiwan trip. Before delving into our unforgettable adventures, there are 10 tips to share when you plan your trip to Taiwan:
Like our Facebook Page here for travel and play updates.
#1 : BEST TIME TO TRAVEL



When is the best time to travel to Taiwan as family? Singaporeans mainly travel as families during the school holiday (May to June) or (November to December). The reason why I didn't mention March and September school holidays is because it is too short to visit Taiwan for a meaningful trip. We would rather we don't go. Below is a snapshot of the average monthly rainfall in some main parts of Taiwan to give us an understanding. October is the official end of the tropical cyclone (typhoon) season, so there is less rain and more sunny days. As such, the best time to visit Taiwan is from November to February.
My recommendation : November to December school holiday.
Weather is cooler (you wouldn't want to end up sweating heavily while carrying your little ones during summer)
Lesser rain (just a full day of rain can disrupt your well-planned itinerary)
School's over for the year!

(no more homework, haha)
#2 : FLIGHT PROMOTION



Cheapskate? I don't give a heck. Now that you have decided to travel at year end, start to look out for any flight promotion. Like the respective airlines' facebook pages and stay tune for their latest promotions. More savings.
Check out OnlinesBooking.com website here.
Similar to Trivago but with MORE selections, OnlinesBooking.com allow you to search, filter and compare Flights, Hotels (from all platforms), Car Rental, Shopping of Travel Stuff, Special Travel Deals and blog posts!
#3 : PLAN YOUR ITINERARY

We spent 9D8N in Taiwan and managed to cover Taipei, Taichung (Cingjing & Sun Moon Lake) and Kaohsiung. I will be blogging many attractions within these 3 main places we visited. To stay tune for our Taiwan travelogue and itinerary, like our Facebook page for more updates.
Your itinerary should reflect your trip's objective, whether you are looking for sight-seeing, food tasting or shopping in Taiwan. So plan early!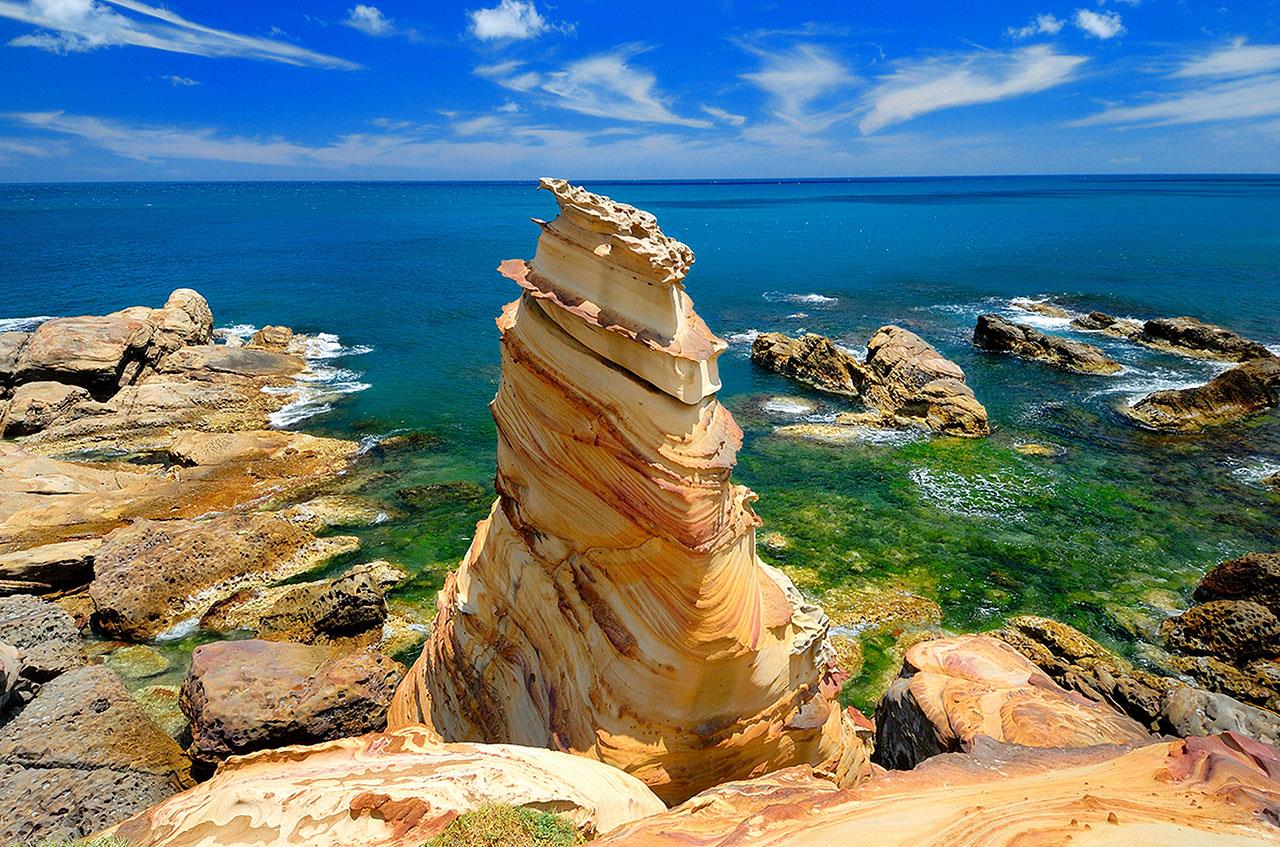 #4 : DISTANCESFROM.COM
This website has become our essential travel kit whenever we travel. It enables you to calculate the distance from one place to another. Planning your itinerary becomes easier with it. The end result? It saves you time, distance travel, transportation cost and gives you a feel & expectation of how long the journey will be. In turn, you can plan your toilet breaks, meals etc.
#5 : ACCOMMODATION

Book your hotel early and add to your savings as prices tend to inflate closer to peak period.
If you are visiting Taipei, read my review on Via Hotel @ Ximen.
If you are visiting Kaohsiung, read my review on The Icon Hotel.
#6 : HOTEL CARD IN CHINESE WORDS
Enough of Channel 5! Now that you are in Taiwan, most of the locals speak only Chinese or 国语. Remember to bring along your hotel card written in chinese words so that the locals can recognize and advise you.
#7 : FREEBIES AT TAIWAN VISITOR ASSOCIATION OFFICE

Yes, it's true. They can range from free tickets / discount coupons for theme park and museums to MRT cards to Airport / Railway transfers. You can collect on behalf of your family members and friends. Bring along these 2 items to redeem your freebies:
Air ticket confirmation
One night of hotel confirmation in Taiwan
The Taiwan Visitor Association Office is littered with countless travel brochures from hotels, theme parks, transport, attractions etc. Collect as many as you can to plan your itinerary.
Address:30 Raffles Place #10-01, Chevron House
Singapore 048622
Tel:62236546
Fax:62254616
E-mail:tbrocsin@singnet.com.sg
Office Hours:09:00-17:00 (Mondays to Fridays)
As we are visiting Taipei and Kaohsiung, we were given free airport transfer (Taoyuan Airport –> Taipei Main Station) and one MRT ride in Kaohsiung.
#8 : BUY A SIM CARD AT THE AIRPORT

We know how important it is to stay connected! We bought our SIM card from T STAR at Taoyuan International Airport. I recommend this provider as the staff are very friendly and would also help you to change your SIM card. It cost NTD $450 for 10 day unlimited data plan (est. SGD $19.60 or $1.96 per day!). You want to save more? Use tethering when Travelling together and share the unlimited data with other mobiles to split the cost!
#9 : TRAVEL TO TAIPEI MAIN STATION BY TAOYUAN AIRPORT MRT

Planning a getaway trip to Taipei has never been easier! After 11 years of construction, Taiwan's Taoyuan Airport MRT has officially opened to the public on 2 March 2017. Travellers can look forward to see their travelling time to Taipei City in just 35 minutes. Find out more in this link.
#10 : BOOKING A DRIVER OR NOT?

Many would prefer to book a personal driver to bring them around in Taiwan. I'm sure there are advantages of doing this. It definitely freed you up the hassle of carrying big luggages while waiting for public transport.
How about us? We prefer to be a little more adventurous. As this is our family's first trip to Taiwan, we want to experience taking their public transport (MRT, railway, taxi, buses) and mingle with the local Taiwanese. Isn't that what travelling is all about? The public transport is fairly cheap although as I mentioned, you would need to sacrifice waiting time in exchange for these personal experiences.
You can also book taxi driver for day trip as well and many of them provide free wifi. A day trip for a MVP taxi (Toyota Wish) cost around NTD $2,500 (est. SGD $109) and above. If you are travelling as a group of 4, split the cost (est. per pax SGD $27) and see how much you can save! By the way, it may include bringing you back to your hotel 🙂
We like to make our trip to have experiential learning for kids as well. Big and Small M got to see how we redeem airport transfer ticket, read the signboard, hop onto the correct coach, calling for taxi, reading road signs and finally get to Via hotel @ Ximen.
A lot is 'caught than taught'. A snippets of what they had learn:
How to buy MRT tickets (or coins) in a foreign land
Learn that Taiwanese stand on the right instead of left on the MRT escalator compare to Singapore (now they understood why they are right-hand drive)
Approaching the locals to ask for directions when we get lost (Taiwanese are super friendly and helpful!)
Using google map with our unlimited mobile data plan to find our destination (that's why we need to buy SIM card at the airport)
Can't wait to visit awesome Taiwan? Check out our Taiwan travelogue here.
I hope you enjoy reading my blog. Do share it with your friends if you like it. Don't forget to stay tuned to my blog / like my blog's  Facebook page / follow me @katongkidsinc on Twitter &  Instagram for the latest updates!