In deciding to explore other parts of China, we chose Guangzhou and Shenzhen this time round.
Guangzhou is also known as Canton and is the capital and most populous city of the province of Guangdong. Before the trip, we purchased SIM cards from Qoo10. Note that ICC Cards allow us to avoid the "firewall of China".
Buy ICC Card from Qoo10
We only need to plug-and-play the SIM cards into our mobile phones upon arrival at Guangzhou Baiyun International Airport and we are ready to go. You can use in Hong Kong and Macau too.
Guangzhou Baiyun International Airport
Adorable children having an excursion at the airport!
Guangzhou Metro is located within the airport. Look at how the airport interiors are beautifully furnished.
Guangzhou is conveniently connected by metro so we would not need to take any taxi. We felt it's more worthwhile to buy one-trip tickets instead of 3-day pass which cost us RM50 per pax.
Use Alipay Tour Pass from now on
Our first time using Alipay International e-wallet and all goes well!
This is the metro "card" or token.
Remember to download Guangzhou Metro Map app.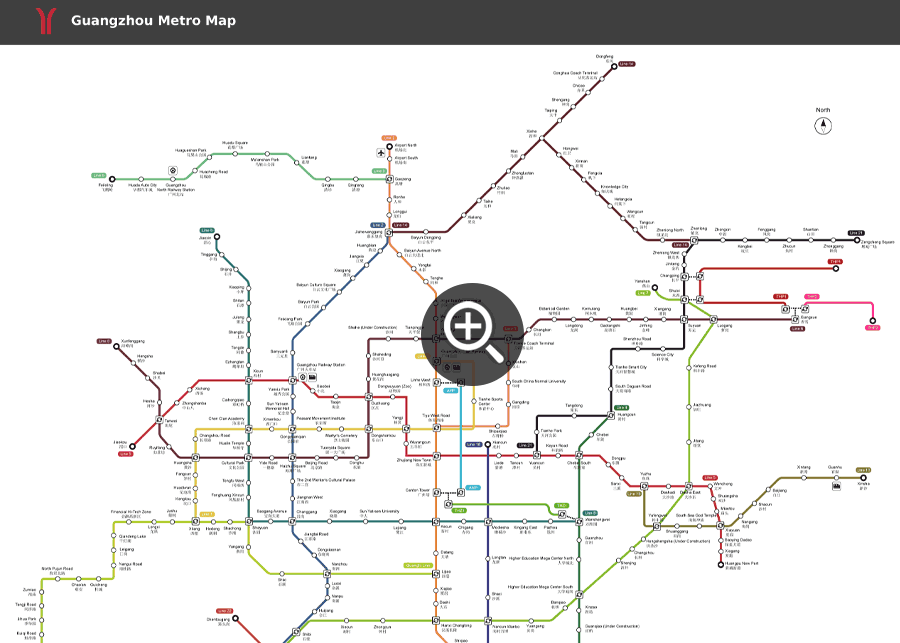 Our Airbnb is located near the Chen Clan Academy Station which is a metro station on Line 1.
The hassle of staying at Airbnb. The host will only inform the location upon arrival so we need some time to locate the place.
A street peddler selling novels. For a moment, we thought the novels looked like "wu ling mi ji"..
A shame not trying the food at this restaurant. It was jam-packed throughout the day. Look at the queue outside!
Our Airbnb
So, this is our Airbnb building.
This will be our abode for the next few days. The place is not so fantastic – weak / non-existent wifi, dusty and water heater not working well.
But hey, we are staying next to a shopping mall!
The place was bustling with activities early in the morning.
One of our favourite bakery where we bought egg tarts every day.
Yummy egg tarts for breakfast and supper. Only SGD1 per box of 4!
Guangzhou Dim Sum is just thumbs up
It was said that the modern form of dim sum is believed to originate in Guangzhou (or Canton) and later transmit southward to Hong Kong. So we are at the right place to taste one of the best dim sum.
Dim Sum in Guangzhou is cheap when compared to Singapore or Hong Kong. Per steamer basket is about SGD2 as compared to SG of about $3.50.
We actually over-ordered. Did not expect the steamer basket to be "JUMBO" size…next time we will be aware.
Here is our order. We spent over an hour trying to finish the food to fill up our small tummies.
One do not need to pay an astronomical sum for good food. Here in Guangzhou dim sum food-hunting is one of the best finds.
Shangxiajiu Pedestrian Street is the place to go
We did our research before the trip. It seems everyone was raving about shopping in Beijing Road. We discovered that Shangxiajiu Pedestrian Street is much better in terms of price and variety.
Shangxiajiu Pedestrian Street, or simply as Shangxiajiu, is a commercial pedestrian street in Liwan District, Guangzhou, Guangdong, China.
Promoting mobile phones and attracting street onlookers to have a time of e-game!
Yummy taro pie from McDonald's.
This street is awesome to find clothing stores, snacks and restaurants. The stretch of Shangxiajiu is more than 800 meters long and you can see many Lingnan style balcony buildings here.
Many tourists here all the year round finding cheap buys.
When night falls, the street comes alive.
There are many traditional snacks of Guangzhou for us to taste.
Just finding joy in the little things. Click here to follow Katong Kids Inc Facebook Page to stay tune on the next travel post.
All photos, information and opinions, unless otherwise stated, in this post belong to Katong Kids Inc. Reproducing or copying them for use on third party sites without our written permission are strictly prohibited. All rights reserved.