The BEST things in life are meant to be shared. We have heard so much about how addictive smart phones pose to children, not to mention allowing them to own such devices.
However, there are times when Big M, being in primary school, needed to contact us and we likewise, wanted to know her whereabouts. We were procrastinating whether to get her a smart phone until we come across a catchy theme from JUMPY Plus smart watch – "Call, locate, and protect your kids anytime, anywhere" that we need to see it for ourselves.
It was love at first sight and we simply fell in love with JUMPY Plus smart watch! From a parent's personal view, these are the 5 reasons why you should get one for your child:
#1 – JUMPY Plus is Trendy & Cool
Children have different personalities and preferences. JUMPY Plus knows it very well. With four distinctive colours (Blue, Red, Yellow & Green) to choose from, your kid is going to be spoiled for choices!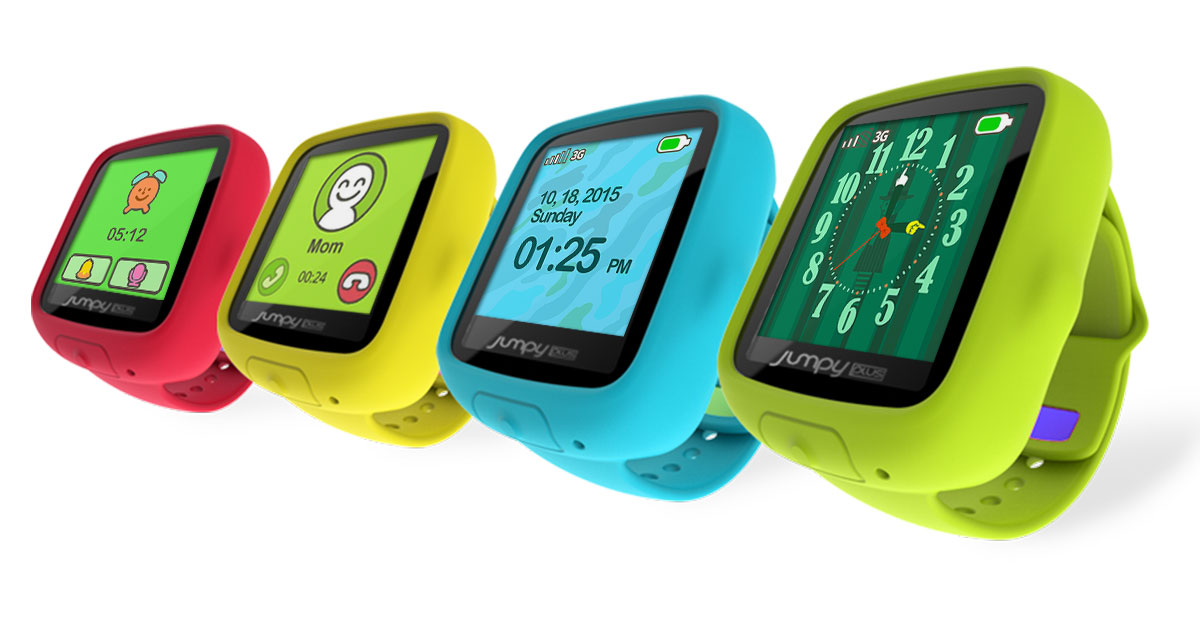 JUMPY Plus comes with over 10 different watch themes so the watch can be personalised to suit one's mood. The user can also record his or her own alarm notification like "I love mommy."
We can imagine how excited Big M is when she finally become a proud owner of JUMPY Plus smart watch.
#2 – JUMPY Plus Connects You and Your Child
A smart watch is nothing if it can't connect you with your child. Designed for children aged between 4 and 12, the JUMPY Plus smart watch is a mobile phone, GPS tracker, activity helper, fitness companion and more.
To activate JUMPY Plus, all it takes is to insert a nano SIM card, sync it up with a smart phone (compatible with both Android & iPhone) and you are ready to go 🙂
Users can make and receive quality calls to and from a preset contact list of authorised persons, with a call log of up to 1 week.  Hey, parents can also record a voice message and send it to the child's JUMPY Plus and receive one in return. The JUMPY Plus also allows for text messaging, emojis and drawings.
#3 – JUMPY Plus Safety Features
JUMPY Plus allows you to preset up to 5 numbers for your child to make or receive calls. This thoughtful idea means that any communication that your child has will only be limited to these preset numbers. Yup, your child will not receive any nuisance or unknown calls. No strangers can get to call through either.
In an emergency, your kid can easily press a button and send SOS messages to you and other contacts on the emergency list immediately.
You can also listen to what your kid is up to without disturbing them. In an emergency, if your child does not pick up your phone call, it is possible to activate remote listening to what is happening around them without triggering the smart watch.
Fear that your child is lost in shopping centres or crowded places? JUMPY Plus allows you to trigger an alarm on the watch via Bluetooth to notify the child that his parents are looking for him.
With such a cool JUMPY Plus smart watch around, we are concerned that Big M will be distracted during lessons. But all thanks to JUMPY Plus, we can remotely switch and lock the watch to "School Mode" using our phones. So Big M can only be able to tell time and make emergency calls during her classes.
#4 – JUMPY Plus Smarter Locator
Do you wish to know where your child is when he/she is not around with you?
With JUMPY Plus' more advanced GPS/GSM/WiFi/G-Sensor technology, you can locate your child in REAL-TIME.
(Safe Zone) : We want Big M to dwell only at permissible places. Imagine how worried we will get if she were to venture elsewhere. With JUMPY Plus, we can set up alert areas for places such as home or school. Whenever your kid enters or leaves the proximity, you will be notified on your phone.
(Historical Track) : How cool is that? Not only do you know where your kid is in real time, you can even check the entire path your kid has travelled for the past week.
#5 – JUMPY Plus is Interactive
A smart calendar can be used to set daily schedules, and voice reminders can be recorded to help kids develop good habits (such as drinking enough water). Parents can also track their children's daily/weekly/monthly usage of JUMPY Plus to know and help adjust their routine.
An adorable virtual JUMPY Pet encourages the user to get off the sofa and stay active so as to feed the pet and dress it up with cool-looking outfits. A built-in pedometer helps parents monitor their child's daily exercise record. A variety of games also guide kids to jump, squat and crawl.
Children will be entertained by short stories with JUMPY Plus, which is constantly updated with new tales. Along with a myriad of energetic games, the device can also control next-generation smart toys.
The neat features of this smart watch have practically fulfilled our basic wish list. We can have a peace of mind – to be connected with our child and let her grow and learn, in the safest way possible.
Promo Code
This is what smart parenting is all about. If you are spending on your child, ensure you spend it for a good use. With the special permission of JUMPY Plus, our readers can get to enjoy the below promotion:
Special 10% discount by using this unique promotional code ( KKids10 ) when you make purchase online via here only.
This promotional code ends on 27 May 2017.
JUMPY Plus currently retails at $278.
Discover JUMPY Plus on:
All photos, information and opinions, unless otherwise stated, in this post belong to Katong Kids Inc. Reproducing or copying them for use on third party sites without our written permission are strictly prohibited. All rights reserved.