The DBS Marina Regatta is not known as Singapore's biggest water sports festival for nothing. Happening at The Promontory@Marina Bay from 1 to 4 June, a slate of fun activities is certainly going to keep your family occupied during this school holidays.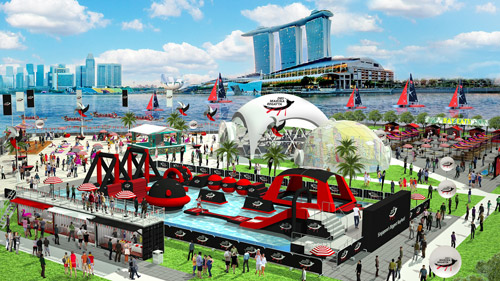 This year's regatta partners up with electronic music festival behernoth Ultra, urban fitness brand lululemon, Bali's famed beach club Potato Head and F&B curators The Local People.
Here are the event highlights for this weekend. Regardless of whether you are a sports enthusiast, there will be some activities that can spark your interest to participate.
I like the idea of chilling out at the magical 7.5m tall Bay Dome (opens from 10am to 10pm) where you will be brought into a virtual world, complete with a 360 degree digital view of the Marina Bay skyline. Hey, how cool is that!
 The Battle Bay, Singapore's largest inflatable water obstacle course is bound to arouse everyone's interest. Featuring 9 challenges over 11,000 square feet, fastest timing for individuals and teams stand to win up to SGD 8,000 in cash prizes and a trip to Beijing!
Wrapping up the Regatta on June 4 is a light show featuring 50 Intel drones – the first time they are making an appearance in Asia. Each of the environmentally-friendly drones can produce over 4 billion colour combinations. Did I mention that the musical piece is commissioned by a friend of mine, Singaporean composer and music producer, Eric 🙂
That's not all, come down here and get yourself immense with all these activities. And yes, admission to the event is free!
Click here to follow Katong Kids Inc Facebook Page and stay tune for the next blog post.
All photos, information and opinions, unless otherwise stated, in this post belong to Katong Kids Inc. Reproducing or copying them for use on third party sites without our written permission are strictly prohibited. All rights reserved.